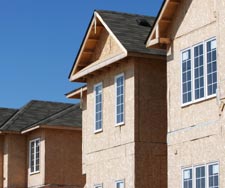 Homebuilders have been eerily silent the past few quarters, but for builders in Chesterfield County, the market is starting to turn around.
The county issued 291 residential building permits in April, 7 percent fewer than the same month last year. That's a dramatic improvement over January, when permitting activity was down 58 percent from the previous year. Slow construction continued in the county through February and March, with permitting activity off almost 40 percent from the year before.
The estimated cost of permits is up as well: April's permits were valued at $22.5 million, about 5 percent less than the year before. In January, the construction cost was 65 percent less than the year before.
It's a different story in Henrico, where activity was 38 percent less in April than it was the previous year.
Across the region, homebuilders say there is more interest from prospective buyers but that most need to sell an existing home, which is clogging the flow of dollars into new homes. Still, the number of single-family permits issued nationwide rose 3.6 percent in April as the combination of government incentives, low interest rates and home prices appear to be encouraging buyers to pull the trigger.
"It seems as though there is a lot of pent-up demand based on what we are hearing and the amount of bidding we are doing," said Kevin Russell, president of Construction Management Solutions, which provides accounting and estimating services for builders.
Russell said his company has prepared about 12 bids for builders to offer to prospective buyers in the past 45 days. But competition is stiff. Buyers are courting as many as four builders at a time to find the best price, he said.
Pat Harris, president of Homesmith Construction, is among those builders accepting slimmer margins to stay competitive, and it seems to be paying off.
"Eight months ago, I wasn't talking to anybody. Now I am talking to six or eight different people in a position to buy," Harris said, referring to a handful of homes he has on the market.
Harris builds homes in Hallsley of Roseland, a community off of Old Hundred Road priced from $400,000 to more than $1 million. Although the high-end segment was among the hardest hit, Harris said he feels the market is solid enough to start building spec homes again, something he hasn't done in more than four months. He just started one spec and plans to build three or four more after that.
"I believe we are past the bottom and have a slow gradual climb up," Harris said.
Finer Homes said the market is thawing now that the spring heat has arrived, according to Cathy Mueller, director of sales at Finer Homes.
"When it got better in March, we held our breath, hoping it was a turn and not just a blip," Mueller said. "It seems to be holding, which is the greatest."
Mueller said the company doubled projects in March and tripled projects in April. It currently has about 20 under construction around Richmond. Finer builds homes that cost between $180,000 and $400,000.
In the past 90 days, at least 30 percent of the builder's customers are first-time homebuyers taking advantage of the $8,000 federal tax credit, Mueller said. Low interest rates are also driving demand.
But incentives don't appear to be taking hold across the river in Henrico County.
Henrico issued 37 permits for single-family homes in April, compared with 89 the year before. That is a decline of more than 58 percent. The estimated value for April's permits was $6.2 million, which is 65 percent less than they were last year.
Finer also builds homes in Henrico. Mueller didn't have the figures broken out but would say that Chesterfield sales were beating sales in Henrico.
"In recent months we've had people from the West End exploring a move to the Southside," Mueller said.
Mueller isn't sure why but said it could be a cost issue.
"If we build the same house in Henrico, it is generally more expensive to do it," Mueller said.
Mueller also said Chesterfield sales are getting a boost from the expansion at nearby Fort Lee in Prince George County. She said between 15 to 20 percent of their activity has been related to Fort Lee.
Local builders and Realtors say that many prospective buyers of a new home need to sell their current home first, and lately that has taken some time. Russell of Construction Management Solutions said many of his clients have contingency contracts in place and are ready to build pending the sale of their customer's current home.
Harris, president of Homesmith, said the slow resale market is holding up a few of his housing starts in Chesterfield.
"In the past few months, I've seen a whole bunch of people willing to jump off the fence and commit to building a house," Harris said. "Part of the problem is that most of these people have homes to sell, and the market seems to be a little weak."

Al Harris covers the homebuilding industry for BizSense. Please send news tips to [email protected]