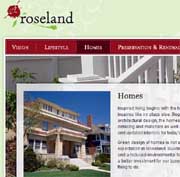 The future of a massive Midlothian real estate development and its financial condition are slowly becoming clearer as the project plods through a bankruptcy reorganization.
The Chapter 11 reorganization of Roseland Village LLC, an entity that owns about a quarter of the 1,300 acre Roseland mixed-use development stalled by the real estate downturn, is attracting attention from multiple parties. 
Bruce Arkema, an attorney with DurretteCrump representing the debtor, said discussions are in progress on three fronts to move Roseland Village forward: finding a buyer for the entire entity, finding buyers for individual lots or sections or finding financing so the original owners can keep the project going.
"I think there's progress on all fronts," Arkema said. "There has been interest in the property and the project by large national players. And it's no secret there are letters of intent floating around for some lots."
Roseland Village filed for Chapter 11 in mid-January after it said its lenders decided not to renew the financing tied to the project. (You can catch up in the original RBS story here.)
The latest bankruptcy documents also shed more light on the financial side of Roseland Village. The 343 acres of land tied to project is currently worth about $42.9 million, according to the filings.
Locally-based Franklin Federal Savings Bank is the creditor on 313 of those acres, currently valued at about $37.4 million, according to filings. Around $15 million is owed on that section of the property, according to Arkema, leaving substantial equity.
BB Hunt LLC, which shares an address with local developer HH Hunt, is a creditor on another 30 acres, valued at about $5.5 million.
Franklin Federal, which is in the process of going public (read more about that here), is the lead lender on the project, though it was a participation loan involving various other lenders, according to Arkema.
Having equity helps take some of the pressure off, but that doesn't mean the lenders aren't anxious to get their money back, Arkema said.
"Franklin Federal is like every other bank where regulators are coming in and saying 'you have a non-performing loan, what are you going to do with it?'" Arkema said.
Roseland Village also owes $220,000 in back taxes to Chesterfield County and $1.1 million to GBS Holding, an entity tied to George "Buddy" Sowers, the developer of the entire Roseland development. GBS owns 50 percent of Roseland Village LLC, according to the bankruptcy documents.
Emails and a phone message left for Casey Sowers of GBS were not returned by press time.
Roseland Village was given a deadline by the bankruptcy court to file its reorganization plan by April. However, Arkema said they are pushing for an extension.
And according to a monthly operating report included in the bankruptcy filings, Roseland Village was not generating any revenue.
The hope, Arkema said, is that one or more of the potential scenarios outlined will get inked before any official plan must be filed with the bankruptcy courts.
"I think it's a little too early to tell. But they are working diligently to find some way to get out of it."
The grand plan for Roseland – unveiled before the real estate crash – and was to include more than 5,000 homes, more than 1 million square feet of office and retail space, and a town center.
According to the Roseland website, homes there sell from less than $200,000 up to multimillion-dollar estates. The plan also called for rental properties, including penthouse condominiums in Roseland's Old Town.
Michael Schwartz is a BizSense reporter. Please send news tips to [email protected]