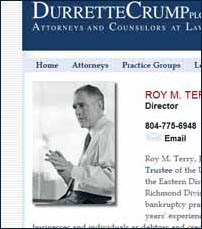 One of the busiest bankruptcy lawyers in Richmond has jumped to a rival firm, but his daily commute won't change much.
Roy Terry has left DurretteCrump and will begin work this week at Sands Anderson.
Terry, 58, first approached Sands Anderson earlier this year.
"We've been chatting for a while," Terry said of his discussions with Sands Anderson. "The bottom line is it is just a great opportunity for me and the folks in my group to continue doing what we do in the larger platform that Sands Anderson offers."
The two firms are just eight floors apart in the Bank of America building downtown.
In luring Terry a few stories up, Sands Anderson scores one of the busiest bankruptcy attorneys in town. Terry is also a Chapter 7 trustee of the U.S. Bankruptcy Court.  He is taking with him two other attorneys, four support staff members and a book of business from more than three decades of work. Terry will also take with him business from his work as a trustee, which pays him a percentage of funds recovered for creditors.
Bankruptcy work has been plentiful in the wake of the recession, and Terry's name often turns up in big filings including the bankruptcies of Prospect Homes, Allen Mead Ferguson and wife Mary Rutherfoord Mercer Ferguson, DuVal Development, Roper Brothers Lumber and others.
Sands is a bigger firm than DurretteCrump, with more lawyers and more offices, including locations in Northern Virginia, Roanoke and Raleigh.
That broader geographical scope was attractive, Terry said.
"It allows us to reach out a little further."
The decision to move firms wasn't an easy one, Terry said.
"I've been with DurretteCrump and its predecessor for a long time — 21 years," he said. "I'm leaving behind partners, close friends, colleagues and a good firm. But this is just a great opportunity."
Pierce Rucker, president of Sands Anderson, said landing Terry and his team is a big get for the firm.
"I think it really strengthens an already pretty strong bankruptcy and creditors' rights group," said Rucker. "Roy brings some experience that is broader than what we've had."
With the new additions, which also include attorneys John Smith and Elizabeth Gunn, Sands Anderson will have 12 bankruptcy and creditors' rights attorneys.
Sands lured two lawyers from ThompsonMcMullen in October.
The additions bring its lawyer count to 75. The growth puts it on par with where it was two years ago before a group of its lawyers spun off to form their own firm, Two Rivers Law Group.
DurretteCrump hasn't exactly been sitting idle, either.
Its predecessors DurretteBradshaw and McSweeney Crump Childress & Temple merged in February to beef up its ranks to about 25 attorneys.
Terry received his law degree from the University of Richmond and his undergraduate degree from William and Mary.
Smith is a law graduate from Boston College and was an undergraduate at the State University of New York at Fredonia.
Gunn also went to law school at Boston College and graduated from Willamette University.
Michael Schwartz is BizSense reporter and covers the legal industry. Please send news tips to [email protected]