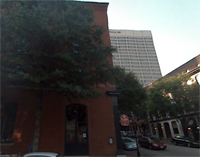 The hustle and bustle of the city has lured a local law firm from the suburbs.
Moran Reeves & Conn, the law firm formerly known as Moran Brown, will move this month to Shockoe Slip, leaving its Parham Road home of more than a decade.
The firm will take over the fourth floor of 100 Shockoe Slip, a former tobacco warehouse developed by Justin French. It is now owned by Jerry Cable, owner of the nearby Tobacco Company restaurant.
"We've been anxious for a while to go downtown," said Donna Savory, office manager for the firm. The firm's attorneys "were kind of tired of being in the 'burbs."
Moran Reeves & Conn leased about 8,000 square feet. The space was most recently occupied by Butler, Williams & Skilling, a local firm that broke last year into two firms: Butler Royals and Williams & Skilling.
Butler Royals is still in the Shockoe Slip building on the ground floor. Williams & Skilling moved recently to the West End.
MR&C made headlines in summer 2010 when three of its lawyers were caught packing their belongings late one night to defect to rival firm Gregory Kaplan. (That firm has since changed its name to Kaplan Voekler Cunningham & Frank.)
Eric Reeves, Brian Schneider and Martin Conn changed their minds and returned a few days later. They ended up buying out former partner Brickford Brown, prompting the name change.
The move will let MR&C's lawyers be in the thick of downtown's legal scene, Savory said.
"Part of it is marketing, and part of it is a great opportunity to have a really nice space," she said.
The firm has been at Courthouse Commons off Parham Road since its founding in 2000.
Savory said MR&C's lease in the Slip runs through 2019.
The firm, which makes the bulk of its fees in product liability defense cases, will move its 21 employees, which includes 10 attorneys, by May 21.