The latest entrant into Richmond's growing craft beer scene hopes its name is one people will remember.
Lickinghole Creek Craft Brewery, a fledgling farm brewery about seven miles west of the Goochland County Courthouse, hopes to open early next year.
Founder Sean-Thomas Pumphrey is working to get the brewery up and running on his family's 221-acre farm. After he gets through the county zoning process and all the other state and federal hoops and red tape, he plans to build a 4,100-square-foot building and model the brewery after a Virginia-style horse farm.
"It'll blend right in with the rest of the environment," Pumphrey said.
The environment he's referring to is the Goochland countryside, which inspired the brewery's name. Little Lickinghole Creek runs adjacent to the farm, which also sits in the Lickinghole district of the county.
A Richmond native, Pumphrey grew up on the Southside. He attended the University of Montana and received an MBA from the University of Richmond.
Pumphrey also got an education in beer while in Montana.
"I discovered beer earlier than that. But I discovered good beer in college," he said. "When I was in Montana, I got really into beers like Big Sky Brewing Co. [which makes a beer called Moose Drool] and Rogue."
Upon returning to Richmond, he was dissatisfied with the local craft beer scene.
"We only had Legend," said Pumphrey, referring to Legend Brewing Co., founded in Richmond in the late 1990s. "I thought there was a real hole in what was being offered locally."
That's when Pumphrey, who has homebrewed for several years, looked at the family farm and began to wonder if he could grow some of the crops he might need for his own beers.
"I thought, 'How cool it would be to make great beer but [also] grow our own local ingredients on top of it?'" he said. "But I heard you couldn't grow hops around here."
The farm, Pumphrey said, is mostly hay and woods, save for a two-acre pumpkin patch, blackberry bushes and a small field lined with telephone poles and wires. And now hops plants, one of the main ingredients for beer, are slithering up those wires.
Once he knew he could grow the hops here, Pumphrey went all in. Lickinghole is Pumphrey's full-time job. He left a career as a car salesman at McGeorge Toyota.
He said he'd rather put in long hours at his own brewery than at a car lot.
"If I'm going to completely commit, why not commit to myself, my family and my own business," he said.
Pumphrey, 35, is a father of two with a third on the way. His wife, Lisa, is behind him in his venture, and she'll work at the brewery with him.
Pumphrey wouldn't share how much money he's put into the venture, but he's using his own funds with some raised from outside investors.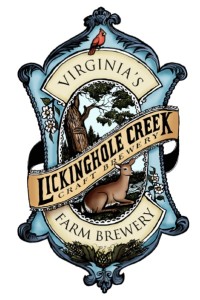 "It's long, tedious and relatively expensive getting it all set up," he said.
In addition to constructing the brewery building from scratch, Pumphrey said he's investing in new brewing equipment. He'll also hire a head brewer.
He's looking to have a full acre of hops growing this time next year. Growing hops won't help the brewery initially, though. It takes three years for a hops plant to grow into a usable form, Pumphrey said.
"Long term, it will save us money," he said. In the meantime, he'll order the ingredients he needs.
Lickinghole's flagship beer will be a Belgian-style India Pale Ale, Pumphrey said. He'll also look to do a double-IPA and some seasonal beers using the pumpkins and blackberries from the farm.
He initially wants to have the beers distributed only in Central Virgina.
Once off the ground, Lickinghole Creek will join Richmond beer scene newcomers Hardywood Park Craft Brewery and Midnight Brewery, incumbent Legend Brewing Co. and others like Center of the Universe Brewing in Ashland that are also working toward a launch.
Pumphrey said that the growing number of local brewers is a good thing.
"It takes more than one band to make a good music scene," he said.
Lickinghole won't be open to the public on a regular basis, even though Virginia laws now allow a brewery to serve for consumption on site, a decision Pumphrey attributes to the brewery's rural location.
"We have to be respectful to our neighbors," he said. He'll look to do quarterly events on site.
As for the name, Pumphrey said he wrestled for a while with ideas. He even thought about just calling it Pumphrey.
"We wanted it to be memorable and authentic," he said.
If the name Lickinghole doesn't stick, there's another small body of water that runs near Pumphrey's farm with a name just as peculiar: Little Magic Beaver Pond.