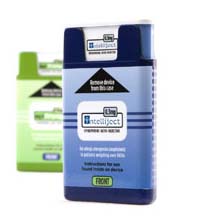 After years of development, a regulatory waiting line and a patent infringement lawsuit, a Shockoe Slip drug maker can finally start watching the royalty checks roll in.
Intelliject on Monday announced that it had received final approval from the U.S. Food and Drug Administration for its flagship epinephrine injection device, now called Auvi-Q, after a last-minute name change.
The approval fully clears the path for Intelliject's big pharmaceutical backer to take the product to market. Intelliject will receive double-digit percentage royalties from the sales.
Auvi-Q is a credit card-size device that helps patients inject epinephrine in response to allergic reactions.
A 2009 deal signed with drug giant Sanofi-Aventis gave Intelliject $25 million up front, $205 million in milestone payments and royalties once the product hit the market. It gave Sanofi full control of manufacturing and marketing the product.
"These are good royalties," said Ron Gunn, Intelliject's vice president of drug development and regulatory affairs.
"We definitely celebrated," the final FDA approval, Gunn said. "So few people get the opportunity to work on a drug that does actually get FDA approval. A lot of products don't even make it to that point."
Once the Auvi-Q begins to sell, Gunn said the additional cash flow would help fund the company's future developments.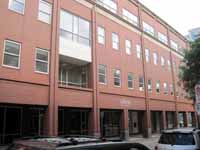 From its headquarters in the Turning Basin building, Intelliject is working on several secretive products.
"We try to stay stealth in terms of specific products," Gunn said.
The company's future products will target the therapies for medical issues such as allergies and diabetes — areas, Gunn said, "where we believe there's unmet medical need."
The approval comes six months after Intelliject ended a long-running patent infringement suit filed against it last year by Meridian, a subsidiary of Pfizer. The company claimed Intelliject's epinephrine injection product infringed on Meridian's popular EpiPen.
The case was settled, but the terms were not disclosed.
Adding to the obstacles was a last-minute name change required by the FDA. What is now Auvi-Q has over the years been called EpiCard and e-cue.
"Getting a proprietary name approved through the FDA is an interesting process," Gunn said.
The new name plays to the device's audio and visual cue capabilities that help direct patients using the device.
Founded in Richmond in 2004 by brothers Evan and Eric Edwards, Intelliject employs about 20 workers.
In May, Intelliject received a $15 million loan from a specialty lender to help finance the development of its products.