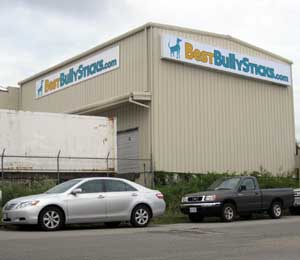 Richmond is home to four of the 500 fastest growing private companies in the nation, according to rankings released this week by Inc. Magazine.
Named to the annual Inc. 500 are Richmond-based Shockoe Commerce, Best Bully Sticks, Impact Makers and Momentum Resources.
Inc. ranks companies based on percentage growth of annual revenue over a three-year period: in this case, 2008 through 2011.
Companies must be privately held, independent and based in the United States and must have generated at least $100,000 in revenue in 2008 and at least $2 million in 2011.
The highest-ranked Richmond company was Momentum Resources, a recruiting firm headquartered on Libbie Avenue. It was No. 156 on the list, thanks to three-year revenue growth of 2,170 percent. Its revenue in 2011 was $2.6 million, according to the numbers it reported to Inc.
In terms of 2011 revenue, Shockoe Commerce was the leader among the four local firms on the list. An offshoot of Boxwood Capital Partners, a Shockoe Slip private equity firm, Shockoe Commerce owns online retailers that sell products as diverse as yoga supplies, coffee and office supplies. It reported $13.2 million in revenue last year and was ranked 422 out of 500.
Local consulting firm Impact Makers, which was No. 360 on the list, reported revenue growth of 1,030 percent between 2008 and 2011.
Pet-treat maker Best Bully Sticks ranked 384 on the list with three-year revenue growth of 982 percent. The company this year closed on its second acquisition.
Here's a quick look at Richmond's members of the Inc. 500:
Momentum Resources
Rank: 156
CEO: Tanya Cummings
Mission: Places mothers and other workers who need flexible hours in part-time and temporary positions
Three-year growth rate: 2,170 percent
2011 revenue: $2.6 million
Employees: 7
Year founded: 2007
Impact Makers
Rank: 360
CEO: Michael Pirron
Mission: Provides health-care-related IT services and management consulting
Three-year growth: 1,030 percent
2011 revenue: $3.2 million
Employees: 34
Year founded: 2004
TDBBS – dba: Best Bully Sticks
Rank: 384
CEO: Avrum Elmakis
Mission: Manufacturers and sells dog and other animal treats and chews
Three-year growth rate: 982 percent
2011 revenue: $11.1 million
Employees: 36
Year founded: 2008
Shockoe Commerce
Rank: 422
CEO: Patrick Galleher
Mission: Operates 14 online specialty stories in industries such as office supplies and yoga
Three-year growth rate: 881 percent
2011 revenue: $13.2 million
Employees: 32
Year founded: 2008