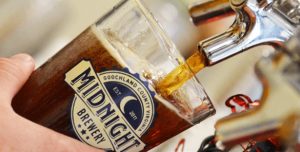 Richmond will have about 75,000 more gallons of beer to drink next year.
Goochland County's Midnight Brewery is on the verge of a major expansion that will give the business a new building, a wider distribution strategy, a bottling system and a whole lot more beer.
The brewery plans to move into a yet-to-be-built 5,400-square-foot brewhouse this summer and will be adding equipment to boost its production seven-fold. The move comes less than two years after founder Trae Cairns traded a career in IT for IPAs.
"I had a two-year plan that was accelerated within about nine months," said Cairns, who launched Midnight in May 2012.
Midnight has on order a 10-barrel brewing system and 20 barrels worth of fermenting tanks that Cairns is buying secondhand from Norfolk-based O'Connor Brewing Company. Midnight will lease its new brewery and tasting room to be built-to-suit in a field right next to its current home at 2410 Granite Ridge Road location in Rockville.
The company has also snagged a bottling line from O'Connor and plans to work with Old Dominion mobile canning in hopes of taking its beer to retail shelves within the next six months.
Cairns declined to say how much money he is pumping into his expansion but said the expenses go far beyond tanks, barstools, bricks and mortar. He'll have to add kegs and bottles to hold the beer, work on label designs and anticipates hiring his first employees as the business grows.
"All of these things, they really rack up, but they're necessary to get your beer out," Cairns said.
Midnight will be using loans to fund the expansion. The company has been financed out of pocket thus far.
The investment is a big leap for Midnight, which opened its doors with two staple beers out of its tight 2,400-square-foot quarters.
Cairns said his growth plan was accelerated by the passage of Virginia Senate Bill 604, which allowed breweries to sell pints on-site. It was signed into law just two months after Midnight filled its first growler.
"Once the law took effect, it changed pretty much everything," he said. "Growler sales were just not going to afford me to leave my full-time job."
Cairns worked in IT by day and brewed by night – hence the Midnight moniker – when he launched his brewery. Midnight started small, producing only about 9 barrels per month from a 1.5 barrel brewing system.
For comparison, Strangeways Brewing Company founder Neil Burton shot for 2,000 barrels a year when he opened up shop last April. Brown Distributing craft director Jacob Brunow estimated Hardywood brews at least 4,000 barrels a year and Legend is turning out about 13,000 barrels worth of product annually.
Post-expansion, Cairns will ramp up production over time towards an initial goal of 200 barrels per month, which equals 75,000 gallons a year. He estimated his new brewing system could handle twice that amount as demand for Midnight grows.
Midnight's size thus far hasn't allowed it to fill large orders from its distributor. Its  is only available in 10 bars and restaurants and does about 60 percent of its business from its Goochland tasting room.
Look for that to change once Midnight starts brewing at full capacity. Cairns expects to sell only between 30 percent of his beer on-site and figures about 10 to 15 percent of Midnight's brews will end up in bottles and cans.
Tapping more into the demand from the Richmond city market is a key to Midnight's growth, Cairns said.
"We've got tons of people asking where our beers are," Cairns said. "We know we need to expand now and have for some time, it just takes a while to get all your piece parts in place."
Brown Distributing is in charge of taking Midnight's beers to market. Midnight and Brown have yet to draw up a distribution strategy, but Brunow said Midnight's portfolio of simple yet consistent staple flavors could fill a gap for traditional styles in the local beer game that often trends on off-the-wall flavors and concepts.
In addition to its original beers – the Rockville Red and the New Beginning Kolsch – Midnight's regulars include the Not My Job brown ale, Head First pale ale and Purdy Mechanic IPA.
"He is really looking on a grassroots level to do something that is approachable for everybody, that's kind of his thing, he's got the 'working man' sort of angle," Brunow said of Cairns. "He's less interested in coming up with 20,000 weird beer styles and more in just making the best possible product."