With competition pouring in from all sides, Richmond's incumbent brewery is stepping up its game.
Legend Brewing Company, which celebrated its 19th anniversary this year, is pushing for more visibility in an increasingly crowded craft beer market. With a new head of promotions, the brewery is hitting the streets and getting more creative with its beer names.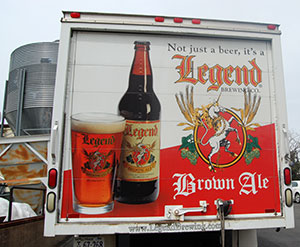 "We were the only game on the block for a long time," said Dave Gott, Legend's vice president for operations. "That's changed."
When Legend poured its first draft in 1994, it was one of about 540 craft breweries in the United States, said Kevin Timme, who joined Legend about eight months ago as the brewery's sales and promotion manager. That number is almost 2,800 today.
In the past two years, three new craft breweries have entered the Richmond market.
Center of the Universe opened in Hanover County late last year, Midnight Brewery opened in Rockville last summer, and Hardywood Park opened in Richmond in 2011.
At least four other others – Lickinghole Creek, Archangel, Strangeways and Ardent – are in the works.
There are now 42 breweries in Virginia, according to the Brewers Association. More than 409 U.S. breweries opened in 2012.
"We're not trying to steal each other's taps," Timme said. "But we had a corner on the market for so long, we weren't hitting the pavement and trying to get our name out there. Now we're trying to change that."
And they're starting with their beer names. The brewery is about to roll out its Urban Legend series, featuring Guardian Dog Doppelbock, Richmond Vampire Imperial Red Ale, Lost City Saison and Locomotive 231. It's a departure from their usual, more straightforward beer names, such as Legend Lager, Legend Brown, Legend Pilsner and the like.
Timme said that, for the first time, Legend is hosting beer dinners and making appearances at local festivals, and the brewery is the main sponsor this year for the River City Rollergirls, Richmond's roller derby team. That's a departure from relying on its tap presence, bottles on store shelves and its brewery/pub on Seventh Street in Manchester.
"We're trying to reinvigorate Richmond back to Legend," Timme said.
It's also raising money to finance a documentary leading up to the brewery's 20th anniversary, Timme said. The film will chronicle day-to-day operations at the business and include interviews with employees and customers who have been with Legend since day one.
"Getting to 20 years is a huge milestone in this business," Gott said. "It goes in cycles. When I started here, there were four or five other craft breweries in the area that have all fallen by the wayside."
With 380 taps in Richmond restaurants, Legend is still the most widely distributed craft beer in town, said Jacob Brunow, head of the craft and import division at Brown Distributing.
He said the brewery's new marketing strategy is a way to make sure that doesn't change.
"Legend is used to seeing double digit sales increases, and there's a little bit less of that now," Brunow said. "But they're still in a good position. All the craft beer drinkers in this town were weaned on Legend Brown."
Legend's volume in recent years also illustrates the rise in popularity of craft beer. It produced 11,000 barrels of beer last year, more than double from four years ago, Timme said.
By comparison, Hardywood was at 2,800 barrels last summer. Midnight launched with a three-barrel system. A barrel is equal to about 31 gallons of beer.
Craft beer sales nationwide rose 15 percent by volume and 17 percent by dollars in 2012, up 2 percent in both categories from 2011, according to the Brewers Association.
Sean-Thomas Pumphrey, founder of the soon-to-open Lickinghole Creek Craft Brewery, said Legend is part of the reason why so many craft breweries are popping up in the area.
"People can look at them at see how much success they've had in the industry," Pumphrey said. "I think we all hold them in the highest regard."
He said the businesses want to turn Richmond into a go-to destination for craft beer, and that requires multiple breweries.
"Beer is like any other business," Pumphrey said. "Some operations that are under-funded or not run well won't make it, and some will go on to compete with and maybe even exceed Legend."
Timme, Legend's marketing director, said he's confident the brewery will be around for the long haul.
"We're a brew pub," Timme said. "We're not trying to be a dance club or anything else. It's about keeping those traditions and, at the same time, staying fresh enough to keep bringing people in."