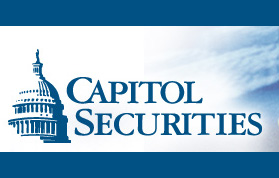 A local financial firm looked 300 miles away for its latest expansion – and it still landed on Broad Street.
Glen Allen-based Capitol Securities Management, a steadily growing financial advisory brokerage and investment firm, is opening a new office in Red Bank, N.J. The location will be the firm's second in the state.
Capitol Securities President Mark Hamby said the company has leased space on Red Bank's Broad Street and looked to that market after luring a financial advisor over from a larger national firm.
Its latest venture into New Jersey marks the company's second new outpost this year. Its first move of 2014 was in January when it opened an office in Wilmington, N.C., after nabbing a team of advisors from Merrill Lynch.
Hamby said Red Bank fits Capitol Securities profile: a medium-sized market that's close to larger markets.
"We're looking to the Richmond-sized cities," Hamby said. "It's just so much easier. People are typically easier to work with and things are typically more affordable."
The expansion into Red Bank keeps Capitol Securities on track for its goal of two new markets a year, Hamby said.
Capitol Securities was founded in Washington, D.C., and moved its headquarters to Richmond in 2006. Its model is aimed at attracting financial advising talent from larger firms.
Here in Richmond, for example, it picked up employees of the former Anderson Strudwick as it was being acquired by Sterne Agee and the former Wachovia Securities when it relocated in 2008 to St. Louis.
Hamby, who was formerly president and chief executive of Anderson Strudwick, said the company likes to take on advisors who are fed up or disillusioned with larger national firms. Independent advisors who come under the Capitol Securities fold get a 90-10 revenue split, with the company taking the 10 percent cut.
"Our sweet spot is that regional guy who's not getting the love anymore," Hamby said.
Capitol Securities finished 2013 with $34.5 million in revenue and about $4 billion in assets under management. It now has more than $4.5 billion in assets under management and is closing in on $40 million in annual revenue, Hamby said.
Its headquarters at 100 Concourse Blvd. in Glen Allen has a headcount of around 40, including independent advisors and on-staff employees. It now has 11 regional offices around the country and dozens more small operations run by its independent advisors.
Brian Hanlon will man the new Red Bank Broad Street office after coming over from Oppenheimer. It's set up to grow to about 10 people, which is about the size of Capitol Securities' typical regional office. The company is in the process of renovating the space and will look to be up and running around Dec. 1.
For next year and beyond, Hamby has his sights set to the south.
"We're looking at the Carolinas pretty heavily now for next couple of years," he said, adding that Columbia and Charleston, S.C., and Raleigh, N.C., are some of the target markets.