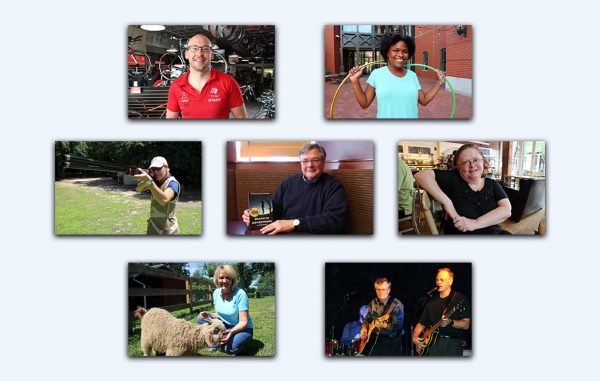 The out-of-office pursuits of Richmond businesspeople continued to catch our attention and lead to some of BizSense's most memorable stories from 2017.
Year 2 of our Downtime series revealed hobbies and pastimes from a gun-firing business development director to a law firm president who spins wool from her own goats. We even came across one of the "Gorgeous Ladies of Wrestling," still active in the industry when she's not working at VDOT.
Here's a look back at the people and personalities we profiled this year in Downtime, which will continue in the New Year with more stories to be told. If you or someone you know fits the bill with quirky pastimes or adventure-filled weekends, please drop us a line:
The younger brother of David Martin, cofounder and namesake of The Martin Agency, divides his time between continuing the family profession with his own firm, Hawley Martin, and the personal passion he's found outside the office: authoring, ghostwriting and publishing books.
"I really get caught up in it. Being able to communicate something in words that really says just what you want it to say is gratifying, and constructing a story is gratifying," he said.
---
The bike shop manager at Endorphin Fitness had been battling with depression before opening up about it to his boss. Freed from that burden, the endurance cyclist found a local cause to champion in this year's Race Across America ultramarathon.
"I want to share my story…" Welch told us in April. "If we share this story, hopefully it will help somebody find the courage to say something themselves."
---
When he's not representing Richmond's biggest developers and homebuilders in their bids to win approvals for their latest projects, the chairman of downtown law firm Hirschler Fleischer is busy playing bass guitar for them with his band The Usual Suspects.
"It relieves stress," Theobald said of the band. "It's primal scream therapy. And it's really like an alter ego. You just feel like a different person and a little freer somehow."
---
The first female president in downtown law firm Sands Anderson's 175-year history spends some of her free time spinning wool from her own flock of eight Angora goats. That is, when she's not riding horses and motorcycles.
"I just think that it's important to have a balance," Hardy said in June. "I think it makes you a better attorney, and a better human being, if you have a life outside the office."
---
The business development director for architecture firm Kahler Slater says her pastime of choice is comparable to her work hunting down new clients for the company.
"Since I do business development and I'm always looking for new work and chasing projects, I feel like this is immediate gratification, because you chase and accomplish. It's very quick," she said. "Sometimes in the work world it can take years to get to that point that you win the project."
---
The "Gorgeous Ladies of Wrestling" personality, now a fiscal technician with the Virginia Department of Transportation, spends her spare time participating in GLOW fan meet-and-greets and has even made a return to the ring, participating as a manager and serving a year as commissioner of Norfolk-based Vanguard Championship Wrestling.
"They loved to hate me," Manley said of GLOW's fans.
---
The media planning supervisor at The Martin Agency looks beyond the firm's walls to get her creative fix, spinning with local hula hoop group RVA Hoop House and around town in group sessions and events.
"It's like yoga in a way: it makes you feel at peace, it makes you feel yourself," Nance told us in October. "It makes you feel happy, because it's so nostalgic… You're just in your zone."