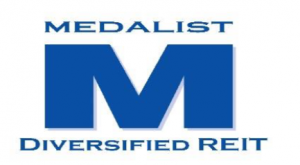 Two local REITs are closing out the year with multimillion-dollar cash hauls, one of which resulted in the region's newest publicly traded company.
Shockoe Slip-based Medalist Diversified REIT this week closed its initial public offering after raising the last $2.4 million leg of a $22 million capital raise that began two years ago. Its shares are now trading on the Nasdaq stock exchange under the "MDRR" ticker symbol.
Founded in 2003 by Tim Messier and Bill Elliott as Medalist Properties, the company invests in commercial real estate throughout the Mid-Atlantic and Southeast.
It owns three properties: a 134,000-square-foot shopping center in Gastonia, North Carolina; a 125-room Hampton Inn in Greensboro, North Carolina; and the Hanover Square North Shopping Center in Mechanicsville.
In 2016 Medalist began raising funds to create a real estate investment trust, which would allow it to make a Regulation A+ offering, a type of public offering created in 2012 through the JOBS Act to allow smaller companies to raise money publicly.
Through that effort it raised $8.7 million, clearing the $8 million minimum for a Reg A+ offering, and went on to raise a total of $20 million as it moved closer to a Reg A+ IPO. But Medalist then ended the Reg A+ process and filed an S-11 raise for a more standard IPO, which allowed it to be listed on Nasdaq.
This week, the company announced it has closed on its IPO, selling 240,000 shares at $10 per share for a total of $2.4 million. In total, Medalist has raised approximately $22.4 million.
Trading began on Nov. 28, and New York-based Maxim Capital Markets acted as Medalist's broker. Its share price closed Tuesday at $9.48.
Now that it's publicly traded, Medalist is required to file quarterly and annual reports with the U.S. Securities and Exchange Commission.
Medalist spokesman Jeremy Hellman would not comment regarding what's next for the company beyond that it plans to continue to build the business. Messier and Elliott were unavailable for comment.
Medalist is based at 11 S. 12th St., parts of which recently were converted into a coworking space by national brand Novel Coworking.
New REIT raises $12M
Meanwhile, another local real estate firm that's kept a lower profile in town recently formed a new, non-traded REIT of its own, with $12 million in equity funding to get it going.
Sandpiper LLC, based at 211 W. Franklin St. downtown, has created Sandpiper Lodging Trust, a new REIT it will use to invest in extended-stay hotels.
Managing Director Ned Sinnott said SLT will be the flagship company, replacing Sandpiper LLC as the public-facing brand.
Sandpiper LLC previously used funds with a limited lifespan to invest in hotels. About two years ago, it began considering creating the trust, right as some of its first funds were ending.
"This was basically a recapitalization," Sinnott said.
Using the $12 million raise as collateral, SLT landed a $75 million line of credit to purchase nine extended-stay hotels from Sandpiper LLC that will operate under the WoodSpring Suites brand. WoodSpring is a separate brand from Sandpiper and is owned by Maryland-based Choice Hotels International.
Sandpiper Hospitality, Sandpiper LLC's hotel management arm, will manage SLT's hotels.
Sinnott added that the company will be moving away from using funds with end dates and using the trust as its growth vehicle moving forward.
"It's a cleaner way. This gives us flexibility to grow and not be making decisions based on a finite end life or date," Sinnott said.
Through both acquisition and development, SLT plans to add to its portfolio of extended-stay hotels nationwide.
"The focus for us is the extended-stay hospitality space," Sinnott said. "We're not like Apple REIT, who has 400 or 500 hotels of all different brands and sizes."
The locations of the nine hotels SLT purchased weren't disclosed, but Sinnott said they're located throughout Virginia, Maryland and North Carolina. Locally, Sandpiper LLC owns the WoodSpring Suites Richmond West at 6900 W. Broad St. in the West End.
P. Carter Rise founded Sandpiper LLC in 2008. Sinnott said the company has deliberately kept a low profile through the years.
"We've flown beneath the radar here locally. People don't really know who we are or what we do," Sinnott said.