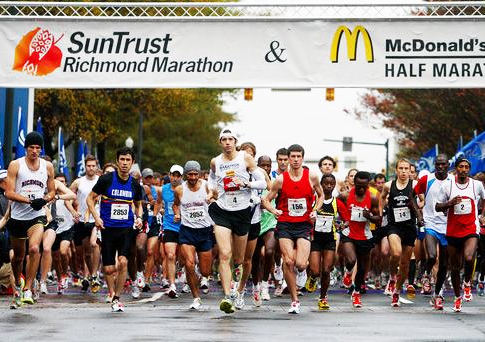 Bowing to Hurricane Sandy, Mayor Michael Bloomberg made the controversial call about 5 p.m. Friday afternoon to cancel the New York City Marathon.
Almost immediately, phones started ringing in Richmond.
"We now have received basically 700 entries since 5 p.m. on Friday," said Jon Lugbill, executive director of Sports Backers, the local nonprofit that among other events puts on the Anthem Richmond Marathon, which will be Saturday. "Instantly we started getting calls and registrations."
Itching for the run they didn't get last week, hundreds of registrants of the New York City Marathon changed gears and looked to the Richmond race for their fix.
Lugbill said Sports Backers is expecting an additional 1,100 runners for Saturday morning's marathon, an uptick that will push the organization close to its cap of 6,500 registrants on the 26.2-mile race.
In its 15th year, the Richmond marathon was already on track to be the biggest ever. The Hurricane Sandy bump has the full marathon's number of registrants at more than 6,000. The weekend's trio of races, which also includes a half-marathon and an 8K, has drawn more than 18,000 registrants. The half-marathon is sold out for the first time in its four years. Lugbill expects the total to reach almost 19,000.
So a week before one of its biggest events of the year, Sports Backers is scrambling to make sure the races go off without a hitch. That means making sure there's enough of everything – from bananas and bagels at the finish line to medals for the finishers.
"We had to quickly analyze how many shirts we had, how many we could get, if we had the volunteer capacity, if we had the water stops," Lugbill said. "There were a lot of quick calculations."
The increase in participants – at $110 a pop for marathoners – also means extra revenue for Sports Backers. But Lugbill said the 11th-hour adjustments would mean more spending, too.
"Stuff costs a lot more last minute," he said. "That definitely hurts us some."
One of the biggest costs is finding a last-minute supply of finisher medals, which are given to everyone who finishes the grueling race. Costs of those go through the roof for an order this late in the game, Lugbill said.
"We quickly can make adjustments to everything except for finisher medals," he said.
The organization quickly decided that people who registered for the marathon after 6 p.m. Friday would receive their medals in the mail, and that required adding a note on their bibs.
Volunteers are also a hot commodity this weekend. Lugbill said Sports Backers would need 75 to 100 extra volunteers to help coordinate the day because of the extra traffic. It will use more than 2,000 volunteers for the events.
Lugbill also said Hurricane Sandy unexpectedly created a tourism opportunity in Richmond. People who have never thought about participating in an event in Richmond could be made into converts – if they enjoy themselves.
"The biggest worry I have is that we maintain our quality throughout," Lugbill said, adding people who "have a positive experience will tell their friends. It's a huge opportunity for us."
And a weekend that is typically a good one for area hotels is looking even sweeter.
"Suddenly we are seeing more reservations at all our hotels across the board," said Sunny Amin, the director of operations at Shamin Hotels. "Definitely, the New York marathon being cancelled has been good for us."
Eight of Shamin's local hotels get marathon traffic, including six near the airport, one downtown and one on Bells Road. That amounts to 867 rooms.
Its Holiday Inn Express on Cary Street downtown typically sells out for the marathon weekend, Amin said. But the company's airport hotels are approaching 90 percent capacity, too. That will likely rise, Amin said, as 10 to 20 percent of reservations come in the days leading up to the race.
The unexpected bump might also have an effect beyond the 1,100 or so extra runners in town.
Lugbill said Sports Backers has found that the average first-time marathoner from out of town brings with him or her five supporters. That's five extra wallets that can spend money in Richmond.
"It's a major life event," Lugbill said of someone running a marathon. "You don't have that happen with the 8K. This could have quite a multiple."
Related story: How Sports Backers hit its stride