One of the most exciting things we cover here at BizSense is the startup scene.
To wrap up the year, we caught up with some of the many entrepreneurs we covered in 2012 to find out where they are now and what they're planning for 2013. In fact, we followed up with so many that we couldn't fit them all on one list, so please check out the second installment.
O'Virginia
Peanuts and pickles are flying out the door at Carytown's one-stop shop for all things local. Owner Daryl Flick said he's happy with sales so far, considering that Hurricane Sandy and the election kept a lot of potential customers busy in the weeks following the store's October opening. Next year Flick wants to amp up the emphasis on artisan crafts and jewelry. He also has a few store events – including a possible book signing with the first lady of Virginia – in the works.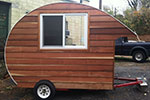 Alchemy Coffee
Starbucks has lost a few customers to Eric Spivack's mobile coffee trailer. Alchemy is up and running outside the James Center, and Spivack said morning commuters have been receptive to the concept. He said that his espresso-based drinks are big sellers and that a second trailer could be in the works for 2013 if he can continue to grow the business.
Shockoe Denim
Owner Anthony Lupesco said thing are going well for the custom jeans company. After the store's October grand opening, Lupesco brought on one of his VCU interns full time. He's in talks with several regional and national retailers about getting the jeans in stores early next year.
River City Segs
The history buffs at River City Segs are averaging about three tours a day, said co-owner Nathan Willis. The Church Hill tour is the most popular, and the company has been using daily deal sites to spread the word. Last month, more than 1,800 people bought tours from Living Social. River City Segs is also accepting submissions for a logo design contest. Aspiring artists can submit their designs to the group's Facebook page.
Keep It Simple Syrup
Susan Martinson launched her business just over a year ago, and now the all-natural syrup is available in 125 ABC stores and at multiple local grocers. Martinson has signed contracts to distribute the product in Kroger stores and the Short Pump Whole Foods. The syrup, which Martinson said can be used in an ever-expanding list of cocktails, is also available online.
Hopper Apparel
The last time BizSense talked to Andrew Bleckley from Hopper Apparel, the company was testing the market for its athletic clothing line at CrossFitRVA. Now the products are available in about 30 stores. In early December, they moved their company into a warehouse in the Fan, and they're busy putting together a spring line.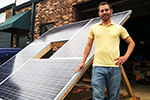 SolarMill
A line of candles will soon be available from SolarMill, which uses solar power to produce consumer goods. Owner Bert Green said he came up with the idea for the candle line while developing a wax finish for his cutting boards. The holiday season has been kind to SolarMill, and Green said he noticed online sales more than double after Thanksgiving.
Salty Grips
Salty Grips are headed to the big leagues. Co-founder Mark Button said the golf-putter-inspired cork fishing rod grips were approved just last week by the USGA for use by professionals, and the company plans to exhibit its product next month at the PGA merchandise trade show. Salty Grips also sold about 100 to the Association for Corporate Growth, which included them in gift baskets at an annual conference, and Button said several golf putter manufacturers have expressed interest in partnering with the company.