A Norfolk-based brewery is making its first push into Richmond.
Smartmouth Brewing has signed on with Loveland Distributing and will be available in the area beginning this summer. The deal marks another tap handle for Loveland in the race among distributors to land the growing number of Virginia breweries.
Smartmouth's beers are available in about 50 bars and restaurants around Hampton Roads. Its move across I-64 to Richmond will be its farthest reach to date.
"Richmond is just a natural market," Smartmouth spokeswoman Chris Neikirk said. "It's a well-educated beer market, just because you have Legend and Hardywood and a couple of breweries up there."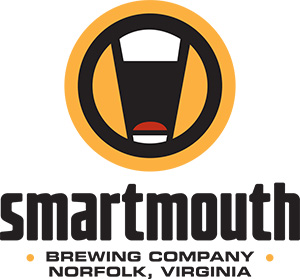 Smartmouth sold its first draft in October 2012. The brand is contracted for distribution with Hoffman Beverage in Virginia Beach and M. Price Distributing in Hampton. Richmond-based Loveland wooed the brewery after one of the distributor's reps decided it was too good to pass up.
"Our Sierra Nevada rep was down at the beach, and he stopped by the brewery and he called us and said you have to go talk to this guy, his beer is absolutely fantastic," Loveland spokeswoman Amanda Marable said.
Smartmouth will send Richmond its full line of brews, including its three staples: an IPA, an amber ale and a saison. A seasonal citra ale and double IPA will also be available to start out.
The brewery will send out only kegs for now, and Smartmouth's 20-barrel brewhouse can turn out about 200 of them a month. Loveland has already picked up a pallet of sixth-barrel kegs, meaning about 100 gallons of Smartmouth is on its way to Richmond. But it will be another month or so before it will be on tap in town.
"In all reality, you're probably only going to see it in August in five or six places," Marable said. "We should be able to fill the demand in September, and you'll probably see it at 30 bars or restaurants [in Richmond], something like that."
Smartmouth is the third Virginia brewery to sign on with Loveland. The company also distributes Nelson County's Wild Wolf Brewing Company and Ashburn-based Lost Rhino.
Loveland competes locally with Brown Distributing and Specialty Beverage of Virginia for the rights to distribute beer brands. They've had a particular focus on signing craft beers in recent years.
Brown carries beers from Richmond breweries Hardywood, Legend, Midnight, Center of the Universe and Strangeways. Specialty Beverage has Blue Mountain Brewery, which is located about 20 miles west of Charlottesville.
The distributors have more than 60 Virginia breweries to fight over, with more on the way before the end of the year. Marable said product quality fuels industry interest more than geography.
"There's fierce competition for all of them," she said. "If it's good beer, there's always going to be a good competition for it."
Loveland added to its craft beer portfolio by bringing Kansas City-based Boulevard Brewing Company into the fold last month. The company also distributes beers from major breweries including MillerCoors, Yuengling and some beer brands owned by Anheuser-Busch InBev.