Few topics are more fun to cover in Richmond than the startup scene.
This year, BizSense reporters found entrepreneurs diving into everything from pedicabs to bottle-cap art. We caught up with some of these companies to see how things played out in 2013 and what's next for their business plans. Some have made it, some haven't.
Be sure to check out Part 2 of our updates on local startups.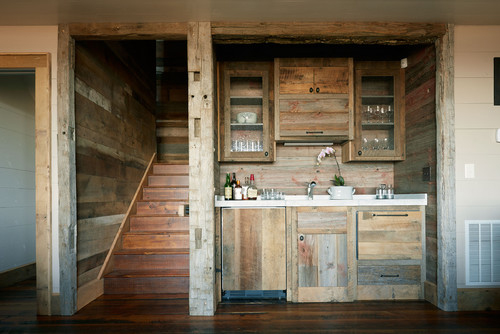 Wellborn + Wright
Wellborn + Wright turns wood found in old barns and houses into flooring, wall paneling, cabinets, doors, chairs and more. It also makes custom furniture.
The company this year took over an old 100,000-square-foot Richmond envelope factory at 3801 Carolina Ave. It opened a manufacturing facility and showroom there in the spring and launched a website, brand manager Natalie Greenberg said.
"We've had a terrific response to everything we've done so far," she said.
The company is considering opening a satellite office somewhere south of Virginia, Greenberg said, and it recently hosted a contest for designers of furniture and other products.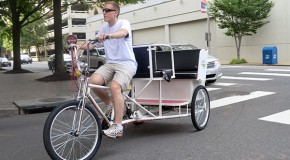 Spoken4
Although winter has slowed its business down, Spoken4 is still riding along in Richmond.
The pedicab company was founded about six months ago by Kyle Langemeier and Katie Hurst. Its fleet includes five pedal-powered rickshaws, which have been used to transport wedding guests, Redskins training camp attendees and festivalgoers.
Langemeier said that summer was their busiest season and that demand naturally has slowed down as the weather turned colder.
He said some customers have been leery about riding in the rickshaws but almost always change their minds.
"As soon as you try it, you like it," he said.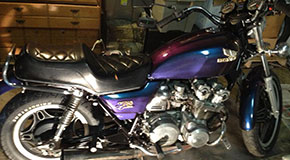 RVA Rides
RVA Rides is currently in park.
The scooter and motorcycle rental and tour shop three Army veterans hoped to launch this year has been put on hold.
Brandon Costanzo, Brian Burnett and Alan Tuck had planned to open a shop near Broad and Boulevard.
Costanzo said they hit a couple of unexpected roadblocks and aren't sure when they will open.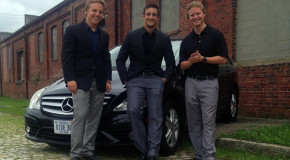 Ninja Detailing
The Anderson brothers' band of car-cleaning ninjas is growing.
In June, Jeff and Joey Anderson founded Ninja Detailing, a mobile detailing business with a martial arts theme that was a spinoff of sorts from their local car service startup, BioRide.
They detail about 15 cars a week and have 10 employees, Jeff Anderson said. Ninja Detailing is designed to help teens and young adults in the foster care system gain on-the-job skills and managerial experience. It uses a training curriculum based on karate-belt-color benchmarks.
Jeff Anderson said they hope that their black belt graduates will become managers and help train new employees or start their own Ninja Detailing franchises.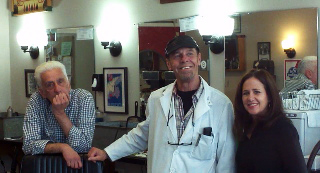 Main Street Barber & Mercantile
Sheila Connelly and Kevin Daley are proving they're cut out for the barbershop business.
The pair opened Main Street Barber & Mercantile at 2215 W. Main St. in May. They are now open seven days a week.
The Fan barbershop trims, cuts or shaves the hair of 15 to 25 clients a day. Daley did the interior design and fabrication, and Connelly, Jerry Perdue and new hire Charlie Ilario provide the haircuts. Connelly said male clients make up about 75 percent of their business.
They are also expanding the mercantile part of the business: Connelly said they offer a selection of candles, mugs, hair care products and even beard care specialties, all of which are made by small U.S. companies.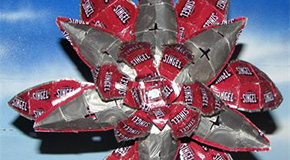 RVA CapWorks
Demand for Josh Stolberg's bottle cap art has yet to go flat.
The VCU graduate started RVA CapWorks in February and has been turning discarded beer and soda bottle caps into flowers, stars, birds, signs – you name it.
Ten months into his venture, Stolberg said he is still working out of his Oregon Hill home but is starting to look for warehouse space. He hopes to make the business his full-time gig.
He sells his work at local markets and also gets special orders for larger pieces that start at $20. His most expensive piece to date was a $600 sign he made for Selba, a restaurant on West Cary Street. It is six feet wide and two feet tall.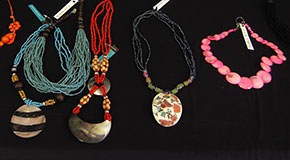 The Artisans Shop
In less than a year, this Carytown retailer has found a local demand for its international wares.
The Artisans Shop, which stocks handmade jewelry, art and clothing, opened in early 2013 at 3324 W. Cary St., a space previously occupied by a cupcake bakery.
Owner Michelle Moore said the store's most popular items come from Peru and her native Guatemala but said she offers items from all over the world. She imports three or four shipments a month.
Moore said she's looking at opening another shop in Short Pump within a year.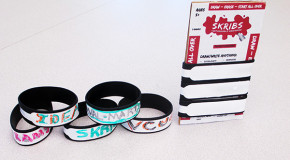 Skribs
A VCU graduate student's idea for customizable wristbands has made its way to Walmart's virtual shelves.
Tumi Oredein invented Skribs this year. The product, which allows users to doodle on the wristband and erase their designs with the swipe of a finger, won Walmart's "Get on the Shelf" competition.
Skribs are currently available for pre-order on Walmart.com. Oredein is working on delivering the first batch, and those will start shipping about Jan. 1. He wouldn't disclose the number of Skribs that have been snatched up during the pre-order phase but said it is a "significant amount."
Oredein said he is considering selling the product licensing to manufacturer Baby Fanatic.