When Jeremy Connell announced his plan to develop a dozen high-end townhomes in Manchester, he said at the time he expected site work to begin two months later: April of last year.
Four months later, when demolition began, he said construction for the project, dubbed 7west, would start that September – with the first units ready for move-in by this spring and the $6 million project completed by now.
Today, the site at the foot of the Manchester Bridge shows minimal development, with foundations taking shape and initial construction framework beginning to go vertical.
Connell, like a number of developers in town whose projects have likewise fallen behind schedule, puts the blame for the delay squarely on Richmond City Hall – specifically its building inspections and permitting bureau, a division of the city's planning and development review department.
Several observers maintain the delays are nothing new, with some developers budgeting time, resources and money specifically to offset anticipated delays. But with the increase in development interest and activity in the city in recent years, developers like Connell agree that the delays have gotten worse, costing them money and slowing down development in a city that some say is booming.
"It is by far the worst it has ever been to get a project developed in the city of Richmond," said Connell, who has been developing in the city for 15 years.
"The process is undermanaged, understaffed and overwhelmed," Connell said. "It's a bad three-way combination that retards development in the city."
With 7west, Connell said the length of time he has had to wait for the city to review his applications for various permits has cost him in interest payments, insurance and taxes – though he said the biggest cost has been to his reputation and missed opportunities to sell units. While eight of the 12 townhomes are under contract, Connell said the full dozen would be sold if the project was further along.
"Our homebuyers lose confidence in the project when they are not able to see it progress," he said. "I feel like I've been making excuses for so long now that I'm completely embarrassed that the project is not further along than it is."
Connell isn't alone. In Scott's Addition, the city's hottest neighborhood in terms of development activity, Chris Fultz said his planned ZZQ restaurant is three months behind schedule, likewise due to permitting delays.
He and his wife, Alex Graf, expected to replace their temporary barbecue setup beside Ardent Craft Ales with the brick-and-mortar location by mid-September. Now, with construction at the site getting going, he said they're looking at December or January before they can open.
And with Ardent needing ZZQ's previous space to accommodate a planned expansion of its brewery, Fultz, who closed up his Saturday pop-up earlier this month, said the delay will mean months of lost sales and valuable contact with customers.
"We've lost all that revenue and all that opportunity this year, because of the permitting process," said Fultz, also a principal with architecture firm Fultz & Singh.
An architect in the city for 20 years, Fultz said this is the first time he's seen the permitting and development review process as an owner and developer – "and I've seen a whole other side of things," he said.
"Of course, this all culminated in probably the worst possible timing in the city, with all the development and real estate activity we have going on," Fultz said. "But it's really brought to light the dysfunction and lack of organization and structure and leadership and accountability – all the things I never had the opportunity to witness on the architect side of the table. It's been incredibly frustrating."
In Carytown, one of Fultz's architecture projects, the new Burger Bach location, is likewise behind schedule – due to an electrical permit that contractor Matt Sevinsky of Sky Commercial Interiors said has held up other work. The scenario has resulted in Burger Bach owner Angela Whitley having to pay double rent, for that space and the restaurant's current location a block away.
"Having to pay double rent, if I'm paying $25,000 a month, as a small business it doesn't take long for that to be catastrophic," Whitley said. "And the city has no regard for that. They have no regard for the reality of doing business."
"It's been in review since mid-June, and here we are approaching mid-August," Sevinsky said earlier this month. "That one little item holds up the progress of the entire project."
Such delays have prompted developers to reach out to their representatives on City Council – in Fultz's case, Kim Gray, whose district includes Scott's Addition.
"We didn't actually get to the finish line until I reached out to Kim Gray," said Fultz, who has since seen work pick up at his brick-and-mortar site.
Gray said ZZQ isn't the only project in her district that she's been asked to help out with in regard to permitting. She mentioned River City Roll, a new bowling alley planned along the Boulevard, as well as Max's on Broad, a downtown restaurant that she said has been waiting for an encroachment permit to allow for permanent outdoor seating.
"In one week, I've gotten as many as five calls from separate contractors and developers who couldn't get their permit through in a timely manner," Gray said. "And I'm talking months. Several of them have waited months before they even put a call out to me.
"These people's lives are on the line. They have invested everything," she said. "We have so many entrepreneurs who a three-month delay in a project could make or break the deal. It could really send them into bankruptcy. And it's lost revenue for the city."
In development
Gray concurred with others BizSense spoke to in recent weeks about causes they attribute to the permitting delays: an apparent shortage of staff unable to keep up with demand; a lack of city funding for more staff and department resources. But Gray said there is also a change in culture and department structure that needs to take place.
"I think there needs to be a full overhaul of the planning and permits department," Gray said. "I think that there needs to be people within the department who are there to assist businesses and walk them through the process. There's no one for them to call when they hit a wall.
"I think it's going to take more staff in those areas. If someone has to wait two to three months for a land disturbance permit, there's a problem," she said. "It should not take that long. And then, the response that people are getting: that by code, we can make you wait longer – that's not a customer-friendly, business-friendly response."
Doug Murrow, who oversees the permits and inspections bureau as city buildings commissioner, said the department was shorthanded earlier this year due to several vacancies and departures, but he said the department's current, budgeted staff level is what it needs to be to meet the existing demand.
"We're doing better now because we have our positions filled," Murrow said. "At the beginning of this year, we were down a number of folks, so at that point, I would have said no, we weren't meeting the expectations of the development community. I think we're doing much better now."
Murrow said the bureau consists of 35 inspectors and 20 office positions in its new construction division, which issues permits for construction and alterations to a building. Another 40 workers are in its code enforcement and property maintenance division, which issues demolition and certificate of occupancy permits for residential uses.
Electrical, mechanical and plumbing work for a project is approved under a separate trade permit, and reviews for code compliance are done as those permits are submitted, according to the bureau's website.
Reviews can involve multiple departments, including zoning, planning and preservation, land use administration, public works, public utilities and water resources, as well as the architectural review commission.
Not all of the 35 inspector positions budgeted are currently filled, Murrow said. As of late July, the bureau had one inspector vacancy, one engineer vacancy and a customer service vacancy, in addition to a property maintenance vacancy that has not received funding approval.
Murrow said most permits are reviewed and issued within either one business day, seven calendar days or 30 calendar days, depending on the project. When requests are up, he said it's not uncommon for supervisors to step in and do inspections themselves, which he said is unfortunate.
"It'd be nice to do 10 inspections a day, but if they're up with requests of 20, then a supervisor has to jump in and help out," Murrow said. "It's kind of become a regular duty that they have, and it shouldn't be that way."
According to city data, the bureau conducted 39,805 inspections and awarded 14,267 permits in fiscal year 2017, which ended in June. That's in addition to 3,335 construction documents that were reviewed during that time.
The number of inspections conducted and permits awarded were both higher than the previous fiscal year, when the bureau conducted 35,837 inspections and awarded 12,125 permits.
The number of inspections last fiscal year was on par with prior years: 38,498 in FY15, 39,051 in FY14, and 40,702 in FY13. The number of permits issued those years was smaller: 11,336 in FY15, 11,003 in FY14 and 12,133 in FY13.
Murrow said the numbers are not the most accurate gauge of the department's workload, as some inspections take more time than others and different permits represent different types of projects.
"Just because the numbers are down doesn't mean that our workload has gone down," he said. "We have some large projects – multifamily dwelling, rehab of high-rise commercial structures – that have one permit, but there are a lot of inspections that go into that one permit that keep us very busy."
The total construction value of the permits issued each of those years likewise vary: $626 million for 12,133 permits in FY13; $490 million for 11,003 permits in FY14; $659 million for 11,336 permits in FY15; and $444 million through April FY16 for that portion of the 12,125 total permits issued that year. Dollar amounts were not available for FY17.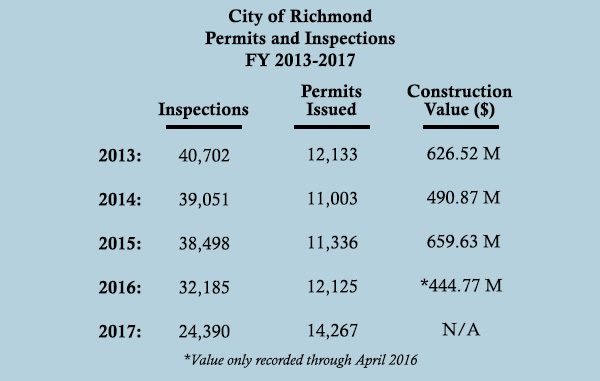 The April cutoff in FY16 coincides with a change in the bureau's operating system, which Murrow said is being converted to digital. Where the bureau could only accept paper documents before, its new EnerGov Citizen Self Service system is expected to launch later this year and has the department now only accepting digital documents. Murrow said that should result in faster sharing and review among departments. The $1.2 million digitized effort got underway last August.
"We are going electronic, which is good because we can distribute them to the different agencies that need to review the documents electronically and they can respond electronically. They can work with the applicant electronically through email. And we're in an urban environment, it's hard to find parking around City Hall, so folks are liking that because they're able to communicate and get a quicker response.
"There are still a few hurdles that are frustrating with our new system, but we're getting there," Murrow said. "In the last year, we've come a long way."
'We can always do better'
Murrow said the bureau is aware of complaints and works to respond to them accordingly.
"I feel that, for new construction and property maintenance, we're pretty responsive," he said. "You can't make everyone happy, unfortunately, but we try. The focus of providing good service is always on our mind."
He said the bureau would certainly welcome more staff and could specifically use eight more employees for inspections and plan review. Of the bureau's current employees, he said many are new hires with less than six months on the job.
This year's city budget funded two temp positions to help the department. Murrow said the temps are assisting primarily with transitioning the bureau's records to digital format.
That will take some time, as the bureau maintains about 75,000 tax parcel records that have been active in the past three years, stored on multiple rolling file cabinets in the center of its office. Murrow said he requested funding for a consultant to facilitate that process, but that request was not included in the current budget.
Mayor Levar Stoney said he has heard from developers, including those he's consulted with since his election last November. Stoney said he's also been consulting with neighboring Henrico County to see how the city can improve its processes.
"We are suffering from staffing issues. I wish we had the numbers that our friends in Henrico have: at least 70-plus people working on commercial and residential permitting. But we don't have those numbers here," Stoney said. "I know that the departments are doing everything they can to keep up with the uptick, but we can always do better.
"This is going to cost a pretty penny. It's not going to fix overnight because of process. It's about the clear amount of volume we're getting, which is a good thing," he said. "And we realize that these are dollars that we're leaving on the table. Every time it takes a developer longer to get their permit, we're leaving those tax dollars on the table, and as the mayor of this city, I need those tax dollars for better schools, for public safety, you name it."
Andrew Clark, vice president of government affairs for the Home Builders Association of Virginia, has been among those talking with the mayor about permitting and inspections concerns. He said discussions have involved business owners, house remodelers, and residential and commercial developers, among others.
"From the business community's perspective, everything needs to be on the table: staffing, allocation of resources, process efficiencies, technology upgrades, fee structures. Unless we turn over every stone, we will continue having the same conversations that we've had for years," Clark said.
"We know that these things can't be resolved overnight. In the first seven months, the administration has shown their willingness to dive in and get to work," he said. "We look forward to continuing the partnership."
'The only thing holding anything back'
Bill Chapman, the developer behind the Citizen 6 modern rowhouses project on Floyd Avenue, said he's surprised that Richmond has not transitioned to digital permitting before now. Active in Roanoke, he said the development review process there is much better than in Richmond, not only in technology but also customer service.
"The customer service level at City Hall in Roanoke is a different experience than what it is in Richmond," said Chapman, who lives in Richmond but hasn't done another project here since Citizen 6. "What I see there is not typical for any city government that I've worked with. It's just a high level of customer service, much more responsive."
Chapman said his past experiences in Richmond were not necessarily bad; they just weren't as good as Roanoke and other localities, he said.
"Just in terms of basic technology, Roanoke has been much further along than Richmond, in my experience, for over a decade, which you wouldn't expect to hear," he said. "You would expect that a city the size of Richmond, located on (Interstate) 95 in a prime location with 1.2 million people in the MSA, that you would see some of these things happen. And for whatever reason, it happens in Roanoke and it doesn't in Richmond."
Charlie Diradour, a local landlord and developer who owns a number of commercial properties in Richmond, said a reason for such differences has as much to do with culture in City Hall as technology or customer service.
"The culture in Room 110 has been: this is the way we've always done it, this is the way we're always going to do it," Diradour said, referring to the bureau's first-floor room in City Hall. "My hope is that, with the new mayor that culture will change."
Diradour, who ran unsuccessfully for City Council last year, said he has heard developers say they won't do business in Richmond because of the delays. He said contractors have told him they add a point or two to their overhead whenever they do business in Richmond, specifically because they anticipate additional costs.
"To be told, 'We only have one electrical plan reviewer and he's behind,' or 'We only have one plumbing plan reviewer and she or he's behind and you're going to have to wait,' well, your bank notes don't wait, your loan payments don't wait," Diradour said. "I'm wondering why we're not investing more dollars into what creates a better Richmond, and I'm hoping that will happen this coming budget cycle next year.
"I know we have pressing issues in other areas of the city such as schools, but this is also a big issue because this is a tax-generator," he said. "This is how you build a tax base to a city. You not only build good schools, but you create a good path for people who are either putting a porch on their house or building a 10-story residential building to be able to do so in a fluid fashion."
For Connell, the developer behind the 7west condos, the issues holding up and slowing down the city's development have to do with the processes in place, not the people.
"I have a perception that the vast majority of the employees at the city of Richmond want to be helpful, but the systems that they have to work with and the management structure they have to work for probably limits their ability to be helpful," Connell said.
"Putting a person in a seat and not giving him the tools he needs to do his job is not going to help."
Diradour said he's hopeful that positive changes will come with the change in administration.
"I'm looking for the mayor to lead on this issue, and I think he will," Diradour said. "I think Mayor Stoney will in fact look to make the City Hall catch up with the citizens of the city of Richmond, because we're moving, we're going. These hitches in the process are really the only thing that's holding anything back."