Two infill developments within a quarter-mile of each other are beginning to rise off a suburban stretch of West Broad Street.
Reston-based Stanley Martin Homes has started going vertical with the first of what's slated to be hundreds of "two-over-two"-style condos at West Broad Landing, a 13-acre development at the site of the former Lawrence Dodge dealership, and at Wistar Glen, a 15-acre project along Wistar Road north of Broad.
#1: West Broad Landing, at the corner of Broad and Willard Road, is planned for 200 condos in 18 four-story buildings, with two-level units stacked on top of one another. Four acres fronting Broad are planned for commercial development.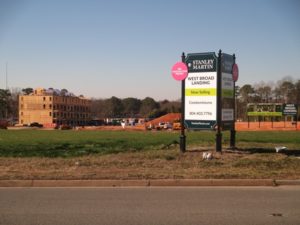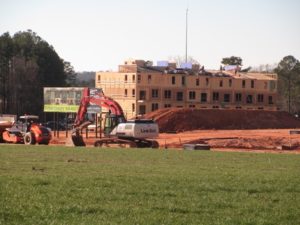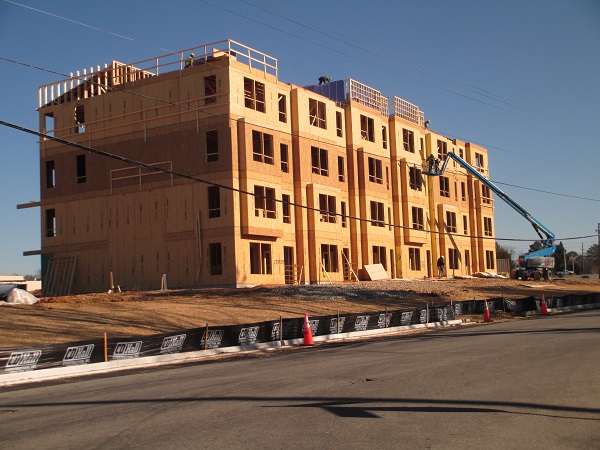 Stanley Martin paid $6.85 million for the land last year, and the development cost for West Broad Landing is projected at more than $50 million.
#2. Northwest of that site, Wistar Glen, at 4613 Wistar Road, is planned for 160 homes: 136 condos, and 24 townhomes to be constructed by another builder. The condo units also will be "two-over-twos" – similar to Stanley Martin's condos at Saunders Station at Broad Hill Centre.
Stanley Martin paid $2.1 million for the land for Wistar Glen, which is estimated at $30 million.
Units at West Broad Landing will start at 1,350 square feet, with prices starting in the low $200,000s. The condos at Wistar Glen are planned to total 1,500 square feet for lower-level units and 2,500 square feet for upper-level units, with prices starting in the $220,000s and at $260,000, respectively.
The developments add to a growing workload that Stanley Martin has assembled around Richmond and in Henrico County specifically. Along Brook Road, it's in the midst of building 88 condos and 42 townhomes at Lakeside Landing, beside Brook Run Shopping Center. Farther north, it recently secured approval for a 500-home development called ReTreat at One.
Meanwhile, directly across from West Broad Landing, construction is likewise underway on a new Rio Car Wash location at 7408 W. Broad St., the site of the former Nanking Restaurant.