From wind-sprinting and yoga-posing chia bars, to slow-drawing sloths and "awful" Cobb Technologies coworkers, Richmond's advertising industry gave us lots to look at – at various speeds – in 2017.
It was a year that saw CarMax go "all in" for a used car in a parody ad, power-walking pickers turning into junkyard mechanics, and a new Richmond agency giving its first crack at a campaign for its one, and so far only, client: Google.
Here are our picks for this year's standout locally produced ads, in no particular order, pulled from The Pitch and other BizSense coverage:
Park Group/Work Labs – Health Warrior animated videos
Featuring 3-D animation created in Cinema 4D and After Effects, the four 15-second videos for local health food company Health Warrior feature its protein and chia bars weightlifting, running a marathon and performing wind sprints and yoga poses. The videos were a collaboration between production studio Park Group and brand agency Work Labs.
Barber Martin Agency – "Pick With Pride"
Barber Martin's campaign for Chesterfield Auto Parts included 15- and 30-second TV and online video spots featuring a mechanic speaking with someone else's voice who's revealed to be a young man or woman. The campaign targeted young pickers and females with television, digital, radio and outdoor advertising.
Dotted Line Collaborations – "The South, South of the River"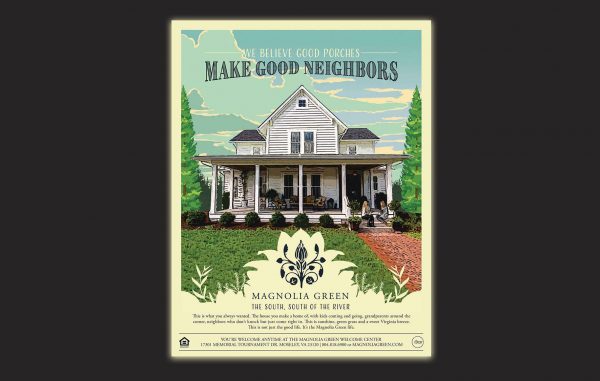 Named agency of record for Magnolia Green, Henrico-based Dotted Line Collaborations rolled out a campaign that featured vintage-style posters showing the Chesterfield community's various home designs. Led by agency founder Lauren Cox Sweeney and chief creative officer Amy Elkin, the campaign included print and digital ads, direct mail, a refreshed website, content marketing and tote bags featuring artwork by Brandcenter grad Jon Hirsch.
The Martin Agency – "Game Night with a Sloth"
The ad giant's latest campaign for longtime client Geico kicked off with this 30-second spot starring a sloth drawing pictures at an extremely slow pace, followed by a spokesman saying, "As long as sloths are slow, you can count on Geico saving folks money." The campaign, called "Count On," came on the heels of the final spot for Geico's long-running "It's What You Do" campaign.
Cobb Technologies/Studio Center – "Awful Co-worker"
Known for its ubiquitous radio ads, the local office equipment supplier worked with Studio Center to release its first pair of TV commercials, which feature the company's employees and voiceovers by owner Freddy Cobb.
Arts & Letters Creative Co. – "You Chromebook"
The Richmond ad scene's newest kid on the block released a campaign for Google Chromebook – the agency's first work for Google since launching in November.
While produced by China's CCTV to promote the country's One Belt, One Road trade initiative, it took Richmond-based filmmaker Sunny Zhao's Dreams Factory to bring this 90-second spot to life. Zhao spent 10 days shooting in various countries along the trade route, directing and taking turns behind the camera. The video opened a two-day summit in Beijing and aired as the initiative's first commercial on CCTV, China's main state-run television broadcaster.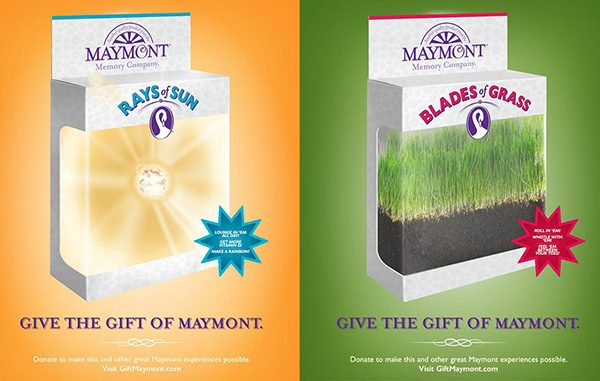 Playing on the 19th-century estate's history as a gift to the city, the pro bono campaign's posters advertised gift boxes from the fictional "Maymont Memory Company" containing Maymont-specific items and experiences, such as skipping rocks at the Japanese Garden koi pond and blades of grass on Maymont's rolling hills. Billboard ads promoted such deals as "Free Vitamin D with every visit!" and "Get one grass-stained knee, get another for free!"
Barber Martin/MadBox/Red Amp – "Win the Holidays"
Barber Martin's latest campaign for Virginia Lottery presented lottery scratch games as holiday gift ideas. Including two TV spots, two radio spots, a digital video, and outdoor, print and point-of-sale ads, the campaign involved video production work from MadBox and audio work from Red Amp Audio.
The used car retailer created a 90-second video to respond to a parody ad that went viral on YouTube. The parody ad, by California writer-director Max Lanman, offered to sell his girlfriend's 1996 Honda Accord starting at $499. CarMax responded with its own video, produced by North Carolina-based agency McKinney, offering to buy the car and other items in the ad for $20,000. Lanman would take CarMax up on its offer, while CarMax's video, starring McKinney creative director and Brandcenter alum David Sloan, rode the wave of exposure with more than 293,000 views.