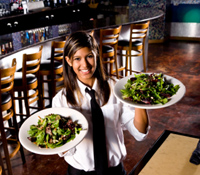 New bites
Winston's Backyard Grill will open this week on Amberdale Drive in Chesterfield. The restaurant will serve subs, burgers and pizza and has a full breakfast menu.
The Republic on Broad Street remains closed, as it has been since last week, apparently because of tax issues. The Republic did not return phone calls before press time Monday.
Second helpings
Big's BBQ is serving up bourbon and barbecue at Chesterfield Meadows.
Times Square, a New York-style diner on Fourth Street, is scheduled to open this week.
Michael Calogerakis traded a bakery for a pizza place, selling Flour Garden Bakery in early summer and opening Anthony's in Church Hill last Thursday.
Bogart's in the West End has closed. The restaurant is still open on the 1900 block of West Cary Street in the Fan.
Kevin Healey, who started the Boathouse at Rockett's Landing, is working on a Mexican restaurant at the Reynold's North Canal Walk downtown. Casa del Barco, the project's working title, is Spanish for "boathouse."
Uptown Market and Deli, a deli, convenience store and coffee shop, opened Monday on Main Street in the Fan.
Tobacco Row's Sensi Italian Chop House closed — and locked — its doors this summer.
The frosty fro-yo frenzy is still white hot. Twister'z Premium Frozen Yogurt shop opened a location in Tappahannock in May with another coming to Staples Mill Road this week. Yapple arrived in Carytown in June to a cool reception from its neighboring Sweet Frog, and Bobalicious is opening a fifth branchnear VCU this month.
The Freedom House opened and closed a hot dog stand this summer. Freedom Franks, located at the Conrad Center on Oliver Hill Way, will reopen next month.
Richmond's Food Truck Court is adding stops at Chesterfield Towne Center and Hardywood Park Craft Brewery this week. The trucks will be at Chesterfield on Wednesday nights and Hardywood on Thursdays.
Hardywood also began selling beer for onsite consumption last Wednesday. A July 4 Brewdependence Day party drew about 5,000 people.