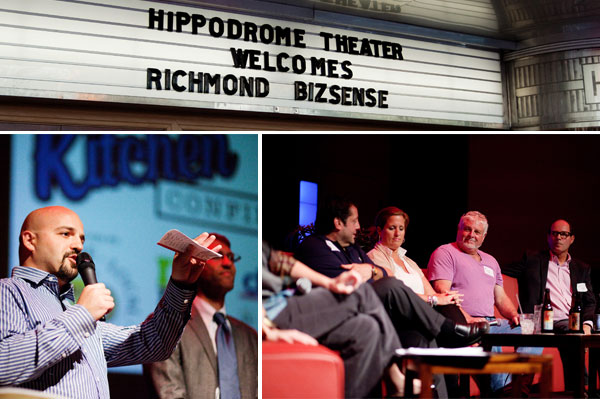 Richmond BizSense events gather the local business community for invaluable networking opportunities and insightful discussions with Richmond's most successful businesspeople. For information on BizSense Event sponsorships, contact Sheri Crowell at [email protected].
Recent events and coming soon
Fourth Annual RVA 25 (October 2016)
The fourth installment of our popular list that celebrates Richmond's fastest-growing companies. Those firms will be honored at an upcoming event at the Quirk Hotel downtown.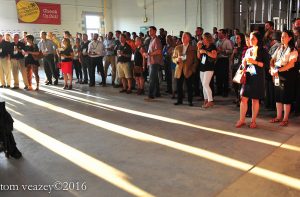 Hard Hat Happy Hours (Quarterly)
Each quarter BizSense hosts a lively networking event at one of the area's most interesting and under-construction real estate developments. Each one to date has sold out and the fourth installment is set for the HandCraft building, an art deco gem that's under redevelopment in Scott's Addition.
Here's a peek at the previous three from 2016:
1st Quarter – Gateway Plaza tower downtown
2nd Quarter – former Flood Zone/Have a Nice Day Cafe building
3rd Quarter – Triple Crossing Brewing's new facility in Fulton Hill
Special thanks to our Hard Hat sponors: Sands Anderson, Keiter, TowneBank, Timmons Group, Safe Harbor Title, S.B. Cox, Postbellum, RJ Smith Companies, Kathy Corbet Interiors and Colliers International.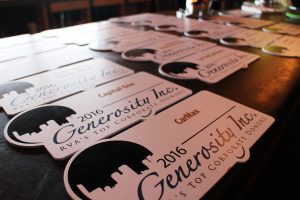 Generosity Inc.
This annual list and event recognizes local companies large and small that donate to nonprofit organizations. This year's Generosity Inc. celebration was held at Hardywood Park Craft Brewery. Here's a look at the evening as we celebrated Richmond's philanthropic side.
Thanks to our 2016 Generosity Inc. sponsors: Sands Anderson, M&T Bank, Elliott Davis Decosimo, Keith Fabry, Gather, Union Bank & Trust, Checkright and Hardywood. 
Past Events
Kitchen Confidential II (November 2013)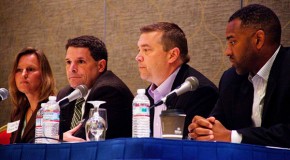 Our second installment of Kitchen Confidential brought together some of the biggest names in the Richmond restaurant scene for a panel discussion about one of the area's most cutthroat industries.
Thanks to our sponsors: RVA Taste the Local, Performance Foodservice, Brown Distributing, RVA News, Keith Fabry, Gelati Celesti, Virginia Linen Service, The Chefs Warehouse, Bandazian and Holden, The Hippodrome Theater and Checkright
Breakfast of Champions (May 2013)
This breakfast event featured a panel of the some of the biggest names in college sports from Richmond and across the state. The lively conversation delved into the fast growing, big money business of college athletics and the arms race it inspires among universities.
Thanks to our sponsors: Perkins Law, Monument Sports Group, SCOR, Martinair, Barrett Capital, Home Team Grill, Hilton, BioRide and Checkright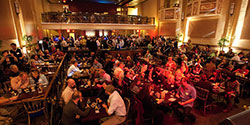 Kitchen Confidential (November 2012)
More than 230 people packed the Hippodrome as BizSense hosted an evening of insight with some of the biggest names in the local restaurant scene. Panelists Johnny Giavos, Michelle Williams, Buz Grossberg, Chris Tsui and Kevin Healy were led in conversation by moderator Maureen Egan.
Thanks to our sponsors: Taste the Local, RVA News, Brown Distributing, Cintas, Auto-Chlor, the Hippodrome, Checkright, Cornerstone Architects and the Help Desk Company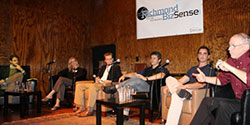 The Business of Booze (November 2011)
BizSense readers poured into Capital Ale House downtown to hear a lively panel discussion featuring Hardywood Park Craft Brewery co-founder Eric McKay, Brown Distributing general manager Reid Brown, Reservoir Distillery co-founder David Cuttino, James River Cellars owner Mitzi Batterson and Legend Brewing Company vice president of operations Dave Gott, moderated by radio personality Will Snyder.
Thanks to our sponsors: Vaco, Checkright, Capital Ale House, RVA News, River City Tech Support and Oliver Creative
Beyond Richmond (2010)
Dan Schmidt, Paul Trible, Susan Dubuque, Mike Barnett were the featured guests at this evening event, which outlined for entrepreneurs ways to expand a Richmond-based business beyond the River City.
Thanks to our sponsors: Thompson McMullen and the University of Richmond